How a Virtual Assistant Can Help You Reach Your Goals
Stay-at-home moms, I hear you! You've got the kids and the home to manage, you're running a business on the side, and life can just get overwhelming. Or maybe you're an ambitious #momboss trying to juggle running your business and taking care of the family. I feel you, ladies! I was that mom too!
When I became a stay-at-home mom in 2017 and start my freelancing business, I tried to do it all. Needless to say, when my kids needed more of me and my business started to grow more steadily, I felt overwhelmed and spread myself too thin. I had trouble keeping up with my to-do list and was falling behind on my deadlines. Several times.
But not until 2022 that I finally decided I need help. So I hired a virtual assistant (VA) and it was probably the best decision I've made for my business. With the help of my VA, I was able to focus on the things that truly mattered, such as keeping up with customer service needs and growing my business.
If you're feeling overwhelmed or just want an extra set of hands to help you manage your workload or just wonder if a VA is a right choice for you, let me tell you that it absolutely can be!
So, if your question is, "should I hire a virtual assistant?", the answer is a resounding yes! But before you do, read on to see what a virtual assistant can do and how they can help you reach your goals. And make sure you have a clear understanding of whether you really need a VA or not. Because, quite frankly, hiring the wrong person to help you can be costly and time-consuming.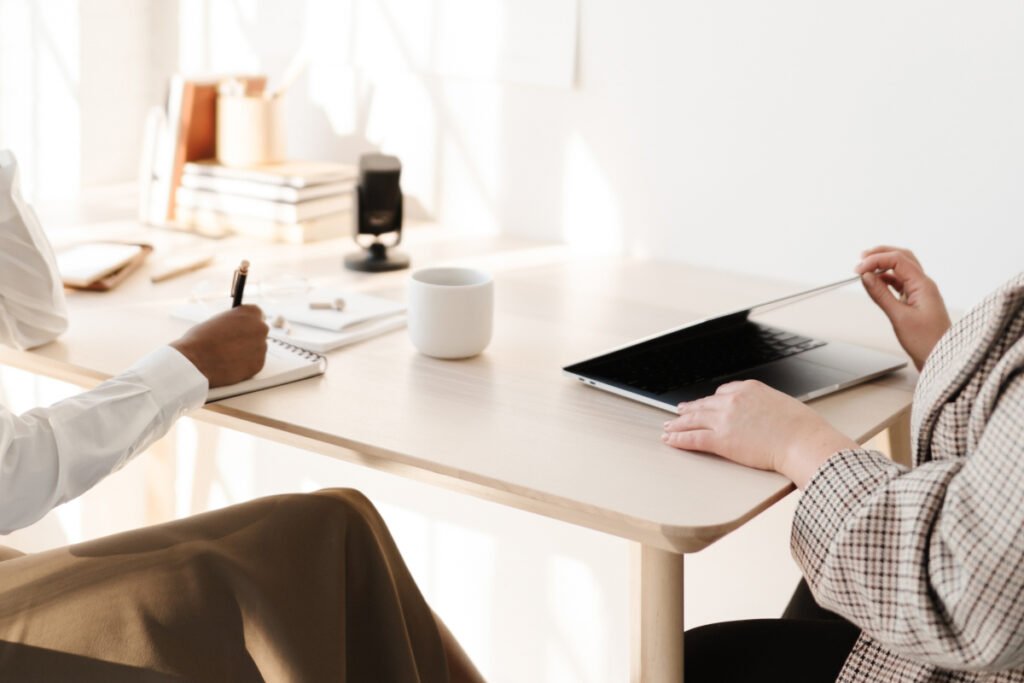 What is a Virtual Assistant?
A virtual assistant (VA) is generally a self-employed professional who provides services to clients remotely. These services can range from administrative tasks, such as answering emails, managing calendar appointments, and data entry, to more specialized tasks such as social media management or content writing. They can be purely professional, or they can provide personal services, such as helping you with online shopping and meal planning, depending on the type of VA you hire.
Hiring a VA allows you to outsource some of the mundane and time-consuming tasks that take away from your focus on higher-priority activities—the activities that will help you reach your business goals, for example. Instead of chasing bills, writing emails, and following up on customer requests, you can focus more on building relationships, growing your business, and getting creative.
Why Virtual Assistants Are in Demand?
As technology has become more accessible, so has the ability to outsource certain tasks. For entrepreneurs and small business owners who are busy juggling family life and their businesses, having a VA to delegate tasks to is invaluable. It can help you bring order to chaos and keep your business organized and running smoothly. It also allows you to focus on the things that matter most—your family and growing your business.
A VA can be a great asset when it comes to helping you reach your long-term goals. With their help, you can create systems for streamlining your workflow, increase productivity, and take some of the pressure off of you. You'll be able to delegate tasks to a VA that can free up time for yourself and your family.
Having a virtual assistant also ensures that all your tasks are completed in a timely manner and with accuracy. This increases customer satisfaction, allows you to focus on the bigger picture, and boosts your overall business performance.
Another reason why VAs are in such high demand nowadays is that they are generally cost-efficient. You can hire a VA for as little as $10/hour (depending on their skills and experience) and only pay them when they are actually working. This is great if you're in the early stages of your business and want to save some money while still getting things done.
10 Benefits of Hiring a Virtual Assistant
You Save Your Time
As aforementioned, having a virtual assistant will save you time, which you can use for more important tasks that are essential to the growth of your business. If you and your VA are in different time zones, you can even have them work into the night and free up your day for other activities.
When you're doing business on your own, time is the most valuable commodity. By delegating tasks to a VA, you can free up your schedule and make more room for creative problem-solving, networking opportunities, and expanding your customer base.
You Save Money
Hiring a virtual assistant is often more cost-effective than hiring a full-time employee. VAs charge by the hour rather than a salary, so you only pay for the hours they work and not for their downtime.
You also don't have to worry about other costs associated with hiring an in-house employee such as employee benefits, taxes, office space, or office equipment, which may add up quickly. Moreover, you can hire virtual assistants from anywhere in the world and pay them according to the going rate of that particular country. This allows you to get quality work at a much lower cost than if you were hiring locally.
You Can Focus on Core Activities
Your VA can handle all the mundane tasks that take up most of our day, such as responding to emails, writing blog posts, and managing social media accounts. You, in the meantime, can focus on the more important stuff like strategizing, brainstorming, and building relationships with customers.
One thing I've learned after over five years of running my own freelancing business is that it's important to spend your time wisely. By outsourcing non-essential tasks, you can focus on the activities that will bring more value to your business in the long run and help you reach your goals faster.
You Get Access to Specialist Skills
Hiring a VA also gives you access to specialist skills that may not be available in-house. VAs usually have a variety of skills and experience, from copywriting to graphic design, and they are often able to provide expert advice on many different topics.
This helps you stay ahead of the competition and gives you an edge over other businesses in your field that may not be aware of the advantages of hiring a virtual assistant.
You Can Easily Scale Up or Down
Unlike regular employees, you can easily scale up or down depending on the needs of your business. If you have a lot of tasks that need to be completed in a short amount of time, you can hire more virtual assistants to help get them done quickly and efficiently.
Similarly, if you're not as busy and don't have much work for them to do, you can just let them go without having to worry about termination costs or other legal ramifications.
You Have More Flexibility
Another benefit of hiring a virtual assistant is that they offer greater flexibility in terms of working hours. Many VAs are available to work nights and weekends, so you can get more done without having to worry about taking time off or paying overtime.
Plus, since they are working remotely, you don't have to worry about commuting time or other expenses associated with traditional employees. All in all, this makes them a great choice for businesses that need to stay flexible and agile.
You Can Streamline Your Business Operations
If you run a small business, chances are you're doing a lot of the tasks yourself. This can be extremely time-consuming and often leads to burnout.
By delegating tasks to a VA, you can streamline your operations and get more done in less time. Plus, they can help you automate certain processes so that you don't have to spend time manually doing the same thing over and over again.
This means you can free up more of your time to focus on growing your business, scheduling and making more room for creative problem-solving, networking opportunities, and expanding your customer base.
It Helps Increase Your Productivity
A VA can help take some of the tasks off your plate that don't require your input or expertise. This means you can focus on the more important tasks that need your attention and get them done faster, which increases your overall productivity.
For example, I myself used to spend hours scrolling through my over-two-thousand-something mailbox and filtering out those I don't need. With a VA, I was able to delegate this task and now my mailbox stays clean and organized all the time. And oh, don't forget the never-ending invoice-chasing game—you can outsource it too!
You Feel Less Stressed
By outsourcing some of your workloads to a virtual assistant, you'll be able to reduce stress and feel more in control of your business. You can rest easy knowing that the tasks you don't have time for are being taken care of by someone you trust and rely on.
Plus, having an extra pair of hands to help with your workload can also make you feel more motivated and energized. You won't have to worry about all the little things, giving you more time and energy to focus on bigger goals.
You'll Have a Virtual Colleague
If you find a VA that you connect with, they will become more like a colleague than just hired virtual assistant services. They'll understand your business goals and objectives and be able to provide valuable advice whenever needed.
A great virtual assistant can also take initiative when it comes to finding new ways to improve the efficiency of your business or trying out different strategies. They'll become a part of your team and help you achieve success in the long run.
Who Needs a Virtual Assistant
As I've said before, I started my freelance business in 2017, but not until 2022 that I started to outsource tasks. Now, it's not only me who is fond of the newfound freedom thanks to virtual assistants but many other business owners too. Whether you're running a small business or an established enterprise, hiring a VA can take your business to the next level and help it reach its full potential.
But the question here is, how do you know if you or your business needs a virtual assistant? Well, after all these years of working with VAs, I've noticed one common trait among the customers: they're always looking for ways to improve their operations and get things done faster. If you can relate to this, then hiring a VA might be the right choice for you.
Small Business Owners
As SMB owners, you are usually the ones who wear all the hats. From marketing and operations to finance and customer service, you're doing it all. Unfortunately, this can be overwhelming and cause burnout. A reliable VA can help lighten your load so that you can focus on other aspects of your business.
Established Freelancers
When it comes to hiring a virtual assistant, many freelancers may not see the value of investing in one. But the truth is, a VA can help you scale and expand quickly. They can handle administrative tasks such as setting up client meetings, managing emails, and scheduling social media posts so that you don't have to waste time on these repetitive tasks.
Busy Business Moms
As a business mom, it's easy to feel overwhelmed with all the responsibilities you have on your plate. You're playing different roles and juggling multiple projects at the same time. Hiring a skilled VA can give you some much-needed peace of mind as they take care of necessary tasks such as managing emails, creating presentations and reports, and organizing documents. This way, you can stay focused on what's important while still having enough time for yourself and your family.
Large Enterprises
Even for larger organizations, a VA can be an invaluable asset. From data entry to customer service support, VAs can help streamline your operations and keep everything running smoothly. Plus, they'll also be able to provide valuable insights on how to improve existing processes and procedures.
No matter which category you fall in, having a VA is always beneficial for any type of business. It's an investment that pays off tenfold and helps take your business to the next level.
Signs You Will Need a Virtual Assistant
Although there is no one-size-fits-all answer to determining whether or not you should hire a virtual assistant, there are certain signs that indicate the need for one—either now or in the very near future.
You Spend a Lot of Time on Different Tasks
If you are feeling overwhelmed with the amount of work you need to do, this could be a sign that it's time to outsource certain administrative tasks. This way, you can focus on more important projects and have peace of mind knowing that everything else is being taken care of.
Your Workload is Increasing
If your business is growing at a rapid pace and it's becoming increasingly difficult to keep up with all the different tasks, hiring a VA can give you the extra help you need. This way, your business will be able to stay ahead of its competition and continue to grow without having to sacrifice quality.
You Foresee a Business Growth
As I said, a VA can be a huge help when it comes to scaling up your business. They can take care of different daily tasks such as managing emails, booking client meetings, handling customer service inquiries, content creation, and calendar management while you focus on growing and expanding your enterprise.
Your Personal Life is Suffering
Working all the time can be very demanding, and it's easy to lose sight of what's important in life. If you find yourself constantly neglecting your personal life because of work, then it might be a good idea to consider hiring a VA. This way, you can have more work-life balance and still get everything done without sacrificing your own well-being.
What My Virtual Assistant Actually Does
So, what exactly does a VA do? Well, it really depends on the individual's skill set and experience. It also depends on the kind of work that you need help with.
Generally, VAs can provide administrative support such as email management, meetings and travel arrangements, customer service support, social media management, and data entry. They can also provide more specialized services such as content creation, SEO optimization, virtual event organizing and marketing, web design and development, and project management.
As a solopreneur, a business leader, and a busy mom of three kids, I welcomed my first virtual assistant in early 2022 who is now working with me full-time. Her main duties are customer service support, creating content and reports, managing social media accounts, organizing virtual events, and setting up meetings.
She has been an invaluable resource in helping me manage my workload so that I can focus on working with potential and new clients, boost my sales, and continuously grow my business.
Of course, you don't have to have a (full-time) VA if you're not ready for one yet. You can still make use of services such as Upwork and Fiverr to find freelancers who can help you with specific tasks when needed.
At the end of the day, hiring a VA is really up to your discretion and should depend on your current situation and what you need in order to keep your business running efficiently.
If you think that hiring a virtual assistant is the right choice for your business then don't hesitate to give someone an opportunity. You never know how much it could benefit you and your business in the long run.
Final Thoughts
Hiring a virtual assistant is actually one of the best business decisions I've made. For busy work-from-home moms like us, a skilled VA is among the most valuable asset for your business success.
If you're looking to take your business to the next level, then consider investing in a great VA who can help you with different tasks and free up some of your time. You'll be surprised at how much they can accomplish and what a difference they can make in your overall work-life balance.