Overcome Mommy Struggles: How to Deal with Kids Like a Super WAHM
For many women, working at home is a dream come true. No more commuting. No more office politics. No more working late nights and weekends. But the reality is that being a work-at-home mom (WAHM) is not all it's cracked up to be.
The challenges of being a WAHM are many, but one of the biggest is juggling work and family responsibilities. It's hard enough to get work done when you have young children at home, but it's even harder when you're also trying to take care of them.
If you're a WAHM, you know that the key to success is finding a way to balance your work and your family life. Here are some tips on how to do just that!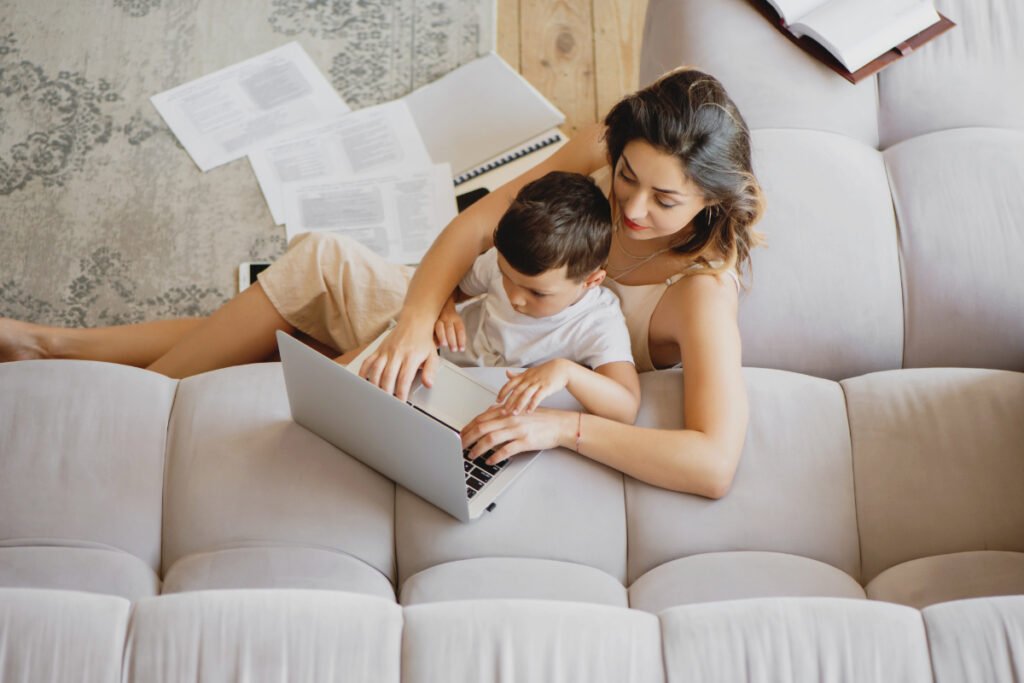 Set Aside Time for Work and Time for Family
One of the most important things you can do as a WAHM is to set aside time for work and time for your family. This may mean getting up early to work before your kids wake up or working late at night after they've gone to bed.
Whatever you do, make sure you have some time each day that is just for work. This will help you stay focused and avoid getting distracted by your kids. When you have to work, put your kids in a safe place (like their room or the playroom) and let them know that you are working and cannot be interrupted. When it's quality time with your family, make sure work is put away, and you're fully present with them.
Make a Schedule and Stick to It
Another important thing you can do to balance work and family as a WAHM is to make a schedule and stick to it. This means setting specific times for when you will work and spend time with your family.
It may also mean setting aside specific days for errands and appointments. For example, you might want to schedule all of your errands and appointments for Mondays to have the rest of the week free to work and spend time with your family.
The most important thing is to make a schedule that works for you and your family and to stick to it as much as possible. As you already know, kids love routine, so the more you can stick to a schedule, the easier it will be for everyone.
Make Sure Your Kids Have Something to Do
If you want to get work done, it's essential to ensure your kids have something to do. This doesn't mean that you have to entertain them every minute of the day, but it does mean that you should provide them with some structure and activities to keep them busy.
One way to do this is to set up a daily routine for your kids. This might include some time for free play, some time for structured activities (like reading or crafts), and some time for outdoor play.
Another way to keep your kids busy is to enroll them in classes or activities that they enjoy, like swimming lessons, soccer practice, or dance class. The key is to make sure your kids have something to do so that they are not constantly bugging you while you're trying to work.
Outsource Where You Can
One of the best ways to balance work and family as a WAHM is outsourcing. Outsourcing can be everything from hiring someone to clean your house to hiring a babysitter to watch your kids while you work and all the things in-between.
If you can afford it, outsourcing can be a lifesaver. It can free up your time to focus on work or spend time with your family. And it can also help to reduce your stress levels.
Another trendy and popular way to outsource is hiring a virtual assistant (VA) to help you with your business. A VA can do everything from answering customer service emails to setting up your social media accounts. If you're not sure how to find a good VA, check out this post on How to Find a Virtual Assistant.
Get Help from Family and Friends
Getting help from family and friends can also help when you're trying to balance work and family as a WAHM. If you have friends or family members who are willing to watch your kids for an hour or two, take them up on it! Even if you can only get help for a few hours a week, it can make a big difference.
Take Breaks and Don't Be Too Hard on Yourself
Last but not least, remember to take breaks and don't be too hard on yourself. Being a WAHM is hard work, and there will be days when you feel like you're not doing enough or you're not doing it right.
But the most important thing is just to keep going. Don't give up, and don't beat yourself up. Just keep taking it one day at a time, and eventually, you'll find a balance that works for you and your family.