Top 5 Work-from-Home Essentials for WAHMs
The fact that I lost my job in early 2020, just right before the pandemic hit, has made me realize the importance of being prepared to work from home. Over the past few years, I have tried and tested a few at home essentials to help me make the most of my time.
As I've discovered, the right equipment can make a huge difference when it comes to working efficiently and comfortably from home. Maybe you don't need a home office, or you don't really need that fancy ergonomic chair, but if you're going to be working from home for a long period of time these top 5 at home essentials can help make your work life easier and more productive.
Top 5 Work-from-Home Essentials for WAHMs
This blog may contain affiliate links. That means if you click and buy, I may receive a small commission (at zero cost to you). Please see my disclaimer policy to learn more.
Work-from-Home Essential #1: A Good Desk Setup
When I finally decided that freelancing and blogging was my way to go, I realized that setting up a comfortable and ergonomic desk was essential. However, before realizing the importance of a proper desk setup, I would just work on my bed with my laptop, or sometimes in the dining room, in the middle of other people's conversations. As you can imagine, this was not only uncomfortable but also unproductive.
Eventually, I decided to invest in a good office desk that allowed me to adjust the height for maximum comfort. Investing in a good desk setup will ensure that you are working in an environment designed for comfort and productivity.
Make sure to get yourself some adjustable height, cable management solutions, and plenty of space for your computer equipment since these will help you work for longer periods of time without feeling uncomfortable or having to move around too much.
Ergonomically, a good chair is also a must. Choose one that is comfortable and adjustable, so you can support your posture as you work for long hours. It should also provide adequate lumbar support while you are sitting. With or without wheels is totally optional, but it's nice to be able to move around your office when you need.
If you have a Mac Mini and a separate screen (instead of a full-fledged computer), you can also invest in an adjustable monitor arm, which will help keep your screen at the perfect angle for a comfortable posture. When it comes to keyboard and mouse, I opted for Logitech's ergonomic wireless keyboard and mouse combo, which is super comfortable and adjustable. The keyboard is highly recommended since it can help you keep your posture in check while typing.
My Favorite Amazon Home Office Essentials
Personally, I'm the type of a person who cannot start working until I have all of my things in place. So, if you're the same and want to create an environment that will help you stay productive and comfortable while working from home, make sure to invest in these desktop essentials first-thing in your journey to become a WAHM!
Work-from-Home Essential #2: Speech-to-Text, AI Writer, and Grammarly
OK, if you're not in the writing game, you can skip this one. But if you are, I've got three words for you: speech-to-text, AI writer, and Grammarly.
Speech-to-text is a tool that allows you to dictate your thoughts into a computer in real time. It will save you hours of typing and allow you to focus on the ideas themselves, rather than the typing. Most of the time, I'll need to manually edit the text later so that it makes sense, but all in all, it has helped me save a lot of time pausing my brainstorming process to type.
If you have a MacBook Pro, it's important to note that your computer already comes with speech-to-text capabilities. Just go to System Preferences > Keyboard and click on the "Dictation" tab. Then you're ready to go!
AI Writer is another tool that I absolutely love for its ability to rearrange my thoughts for me and automatically suggest edits, based on the context of my work. In fact, Jasper.ai and Grammarly are the two tools that I often use to make sure my content is up to par with standards.
Jasper.ai will automatically generate text for you, given a set of keywords, so if you're ever in need of inspiration or just want to get some ideas flowing quickly, it's the tool for you.
And lastly, I couldn't talk about writing tools without mentioning Grammarly. It's a grammar and spelling checking tool that helps me make sure every sentence I write is mistake-free and up to par with my readership standards. And what's even better is that it has an AI-driven writing assistant, which helps me rethink my sentences for clarity and impact.
So if you're a writer (like myself) or work closely with words, I suggest investing in these tools. They will undoubtedly make your job easier and more efficient, and help you stay productive and make sure your content is always up to par.
Work-from-Home Essential #3: A Reliable WiFi Connection
Nowadays, a reliable Wi-Fi connection is essential for any remote worker—whether you're a freelancer or an employee of a company. If you're in a crowded area or your Wi-Fi router is outdated, you may suffer from slow internet speed or frequent disconnects.
OK, now, be honest here and tell me, how many times you just cursed the internet connection while trying to work from home?
The best solution to this problem would be to get a new router, or upgrade your existing one. However, if you're on a budget and can't afford it right away, there are other options such as getting an extender or Wi-Fi booster.
As the name suggested, a Wi-Fi booster will help you extend the range, speed, and reliability of your existing Wi-Fi connection. And if you're a streamer looking for an even faster connection, there's always the option of getting a gaming router.
A fast, stable Wi-Fi connection will not only help you work from home more efficiently, but it will also allow you to do other things such as stream content, download podcasts and movies, etc. in just a fraction of time, saving you a lot of time and energy.
Work-from-Home Essential #4: Google Chrome
With so many options out there, including Safari, Firefox, Opera, etc. why do you need Google Chrome?
Well, for starters, it's the most popular browser in the world. That alone should be enough of a reason to use it if you're looking for efficiency while working from home. However, there are other features too which make it an even more appealing choice.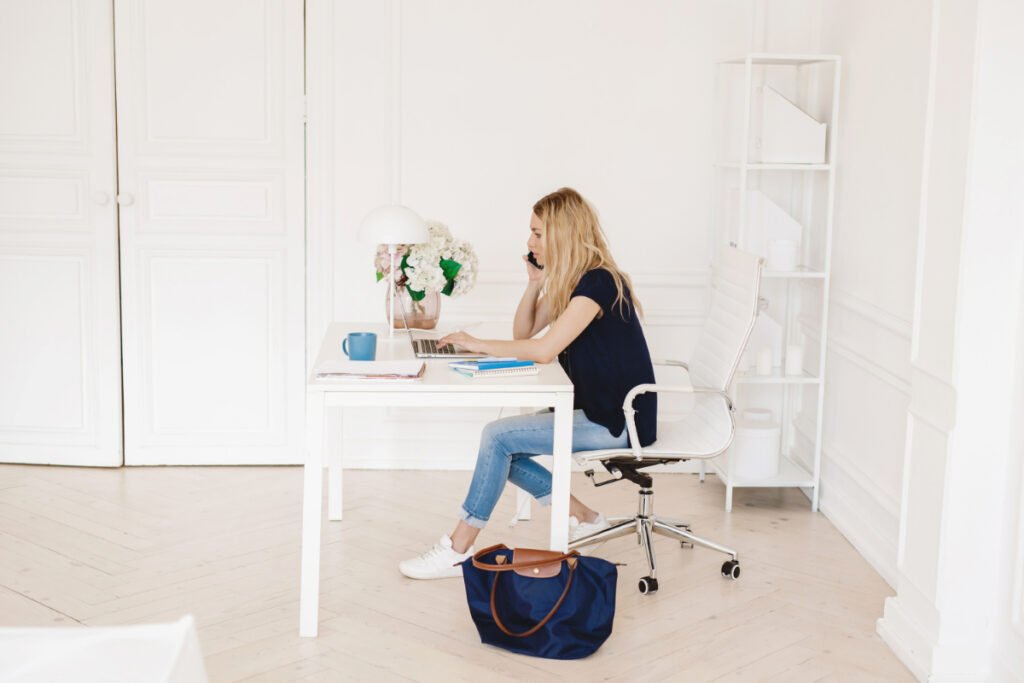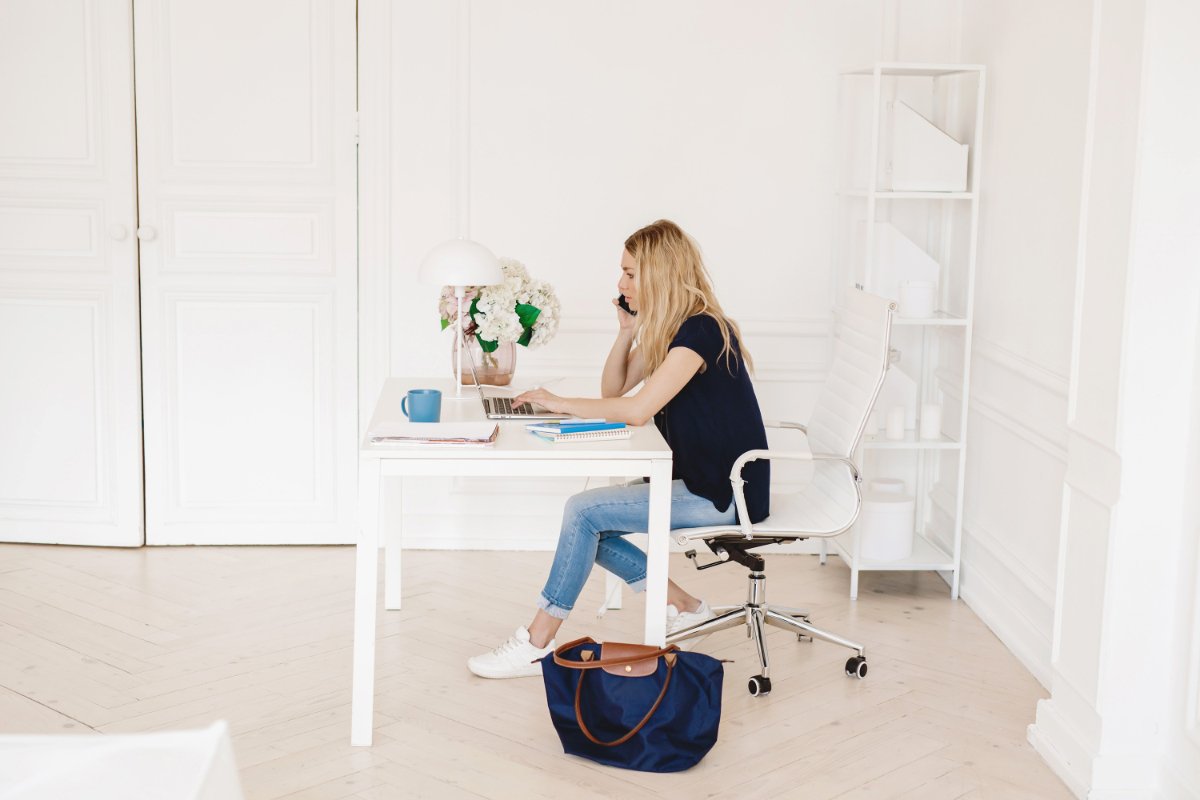 For example, Google Chrome has its extensions, which are essentially tools that will help you customize the browsing experience to suit your needs. You can use extensions for a variety of tasks such as taking notes, tracking time and productivity, or even blocking websites so you don't get distracted when working from home. In fact, almost all of my essential, must-use tools like Jasper.ai, Grammarly, and Ubersuggest have their own Chrome extensions. You can integrate them right into the browser, making it much easier to use them while you work.
Google Chrome also supports cross-platform synchronization, so you can open tabs and bookmarks on any device. This means that wherever you are, your browsing session is always with you. And, consider the fact that we all will have at least two different Google account for both work and personal life, Chrome just made it easier to switch between them with just one click.
Well, I used to work mainly on Safari on my MacBook Air. But then, when my tools eventually launched their extensions for Chrome, and also, some productivity tools (like Monday) can only support Chrome browser only, I also made the switch. And all I can say is that I never looked back!
Work-from-Home Essential #5: A Good Filing System
I'm a paper person. But I'm a conscious, enviromental-friendly paper person. That's why I only use a filing system for the important stuff, such as contracts, invoices, and bills. Everything else, if I can help it, I like to store digitally. So, let's talk about both physical and digital filing systems to help you get your work-from-home routine in order.
First, let's start with physical filing. The best way to do this is by investing in a good quality filing cabinet or storage system that fits the space you have available. For example, I use a two-drawer cabinet for my office stuff, and a set of folders to store documents, notes and receipts. I also use a labeler to make it easier to identify what's in each folder.
Now, for digital filing, you can use either cloud storage services such as Dropbox and Google Drive or an online filing system like Evernote. Both of these will allow you to organize your documents and access them from anywhere.
On top of that, I also set up a filing system in my email inbox. I use the labelling feature to tag emails according to their types (for example, "invoices" or "contracts"), the senders (since I have several long-term clients), and even specific projects. This ensures that I can quickly access the information that I need at any given time.
Establishing a dedicated filing system –both physical and digital—is one of the essential elements to help you stay organized while working from home. So, take some time to create a system that works best for you and stick to it.
Ending Thoughts
Working from home definitely has some advantages, but it's also important that you have the right tools and resources to make it easier. The five work-from-home essentials mentioned in this article are just a few of the things that I find helpful, especially when your jobs have something to do with writing, proofreading, or wording in general.
Of course, I cannot list all the things here since different jobs may require different tools. But, I do hope this gives you a nice overview of the basics.
Good luck with your work-from-home routine! I hope the essentials listed in this article can help you make it easier and more enjoyable!